Activate your tenant account
How to create an account as a tenant
Access to the Bloc Solutions platform by a tenant must absolutely go through the creation of an electronic lease by an owner/property manager.
You can then activate your account in two ways. The first option is preferred because it is simpler and faster.
For more details, we suggest you to read this post.
Tenant account creation by owner invitation
Once your landlord has generated the electronic lease, an invitation will automatically be sent to you by email to register on the Bloc Solutions platform.
Please note that some email services consider this email as junk email, so it is important to check the "junk email" (commonly called "spam") folder in your email box.
After receiving the email, click on the "Sign my lease now" button to activate your account.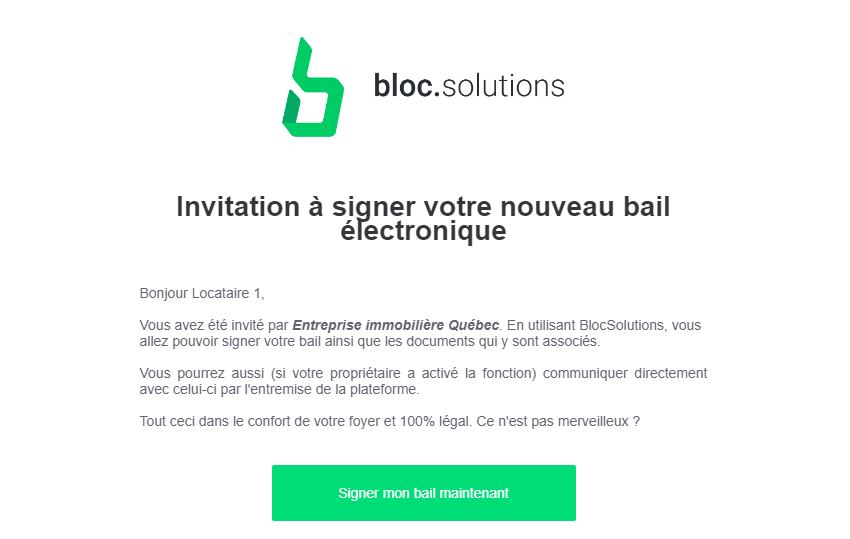 You will then be redirected to the platform.
It will then be possible for you to sign your electronic lease as well as the documents related to the lease.
I have not received my email invitation
If you are a tenant and you have never received you email invitation, please read this blog post.
We also have an online video explaining in detail the steps to create a tenant account on the platform.
Create your tenant account via the Home Page
If you have difficulty receiving or finding your email, it is possible to register by accessing the platform and create a tenant account.
Follow these steps to create a Bloc Solutions tenant account:
Create an account on the site bloc.solutions making sure to select the "I am a tenant, but I did not receive my invitation" option
Enter the requested information
Click on Next
Then, enter your email address
IMPORTANT You must use the email address you provided to your landlord or property manager. This email address will be used as a link to assign you an electronic lease. By using another email address, the platform will not be able to make the link and will not assign you the electronic lease that was dedicated to you.
Enter a unique password and confirm this password a second time Your password must be at least 8 characters long. (including one lower case, one upper case and one number).
Check the box to accept the terms of use de Bloc Solutions.
Check the box to accept the privacy policy.
Once you have read everything, click on Save. Your account is now created. You now have access to your documents and discussions with your owner and/or property manager.
You have any other questions? Check our FAQ to find out everything you need to know about the Bloc Solutions platform.